Bhutan Yoga Retreat Adventure
What You'll Experience in Bhutan
This Bhutan yoga retreat adventure is full of only-here immersion and wonder. Through our unique connections you will experience a blessing with the High Lama, stay at an active monastery, explore ancient fortresses and temples, raft the rapids, mingle with monks and discover yourself in the Land of the Thunder Dragon. In this world apart, you'll discover a moving feast of culture, nature and infectious local smiles. It's an ideal destination for personal enrichment and deepening your yoga practice. Bhutan culture is preserved by issuing only a limited number of tourist visas each year, so they are able to welcome visitors sustainably while preserving their endemic and natural beauty. 
How You'll Experience Bhutan
Your Bhutan yoga retreat adventure will weave together the best of the country's culture and nature—all while grounding your experience with deep breaths and yoga. Exclusive, hyper-local experiences, hiking and culture are at your fingertips. You'll stay in beautiful local hotels in Thimphu, Punakha, and Paro, as well as a unique overnight in a monastery, hike to the iconic Tiger's Nest (i.e., Paro Taktsang), play a friendly soccer game with monks, visit the world's largest Buddha statue, the Buddha Dodernma and plenty more. Soak your body in a traditional hot stone bath and your spirit in the mysteries and enchantment of Bhutan. 
How You'll Feel When You Return Home
Bhutanese humor will invoke your inner (laughing) sage and your friends and family may start wondering, what happened on that Bhutan yoga retreat?! You'll emit a deep vibration of bliss as you walk through your normal life, just knowing that a place that measures success by an index of happiness exists.
Bhutan Yoga Retreat Adventure Details
October 17 - 26, 2024
Kristin Clark Cork
When we meet you will find that my philosophies on the mat are mirrored in my approach to life. I've been teaching yoga and meditation for over 20 years and my takeaways from time on my mat is always changing… It's the beauty of yoga – it meets you where you are in that moment and it never judges or criticizes or asks anything more from you then you have to offer. There's no doubt our practices on the mat enhances our most important practice… living life live now. Each morning I pause before diving into the "business" of the day and ask myself "What would I love to feel more or less of that I can thread thru my experiences?" I flow a bit waking up on all levels and my morning teachings reflect a sense of awakening. As the day wanes, my teachings are soothing, relective and restorative. I believe there is so much that lies beneath the surface of our beings and that yoga and meditation helps us dive through the tip of the iceberg, clearing clutter, so that we are more fully awake and able to embrace life!
Erich Schiffmann has been monumental in my approach to life on and off the mat. His teachings of "being on line all the time" takes you out of habit-mind and into "life live now". His Freedom Style approach to yoga and life empowers the inner teacher to be heard. Who doesn't want to cultivate a more meaningful relationship with themselves and others? Yoga and meditation are vehicles that help us find more space between breaths and longer pauses between thoughts so that we are able to hear our inner voices speaking about what matters most to each of us!  "Living life live" means living life alive and fully in the present. If not now, when??
My various vinyasa flow practices reflect a meditation of movement whether gentle or powerful. I absolutely love to sequence so the movements are a meditation in themself. Connected thru the breath, we stay present. Through this connection, we can explore the subtle micro adjustments to find the yin and yang in every pose. It is a goal to take this flow of breath from my practice off the mat and into my world…  inhaling life's inspiration, exhaling the debris. I believe where the breath is stuck, so is our prana.
Last but certainly not least, my subtle body and yin teachings. Yin found me while living in the high mountains of Colorado. I think it's important to pause often and integrate physical stillness. Being in conversation with ourselves leads to profound intuitive inquisition.
As the owner of Be.Yoga in Avon CT, as a teacher and as a student, I love exploring and learning especially beneath the surface of things. I love to travel and simmer in other cultures and learn from their lifestyles. I started leading yoga retreats and adventures in 2008 as a way to bring like minded people together to pause and explore life both on and off the mat.
I hope to meet you in the flow! Feel free to email me at [email protected] any time with questions, insights or inspirations!
NEW ADVENTURE DATES COMING SOON
In the meantime check out other great Yoga Adventure locations. Join our newsletter for the latest updates and new adventure location dates.
Ten days in-country with an expert local English speaking guide
Bhutan visa and permit management
Round trip flight from Bangkok to Bhutan
Breakfast each morning at our hotels
All lunches including local eateries and picnic(s)
All dinners in a local restaurant or at our hotels
Morning and evening yoga on most days (please see the full itinerary for yoga schedule)
Three nights luxury boutique hotel in Thimphu
Three nights deluxe boutique hotel in Punakha
Three nights unique forested boutique hotel in Paro
Full day excursion and hike to the iconic Tiger's Nest Monastery
Blessing by the High Lama of Bhutan
White water rafting adventure
Overnight in an active monastery
Evening prayer sessions with local nuns
Friendly soccer match with monastery monks
Explore Punakha Dzong
Up close and personal with one of the worlds largest Buddha statue – the Buddha Dodernma
Cooking class with organic and local food pioneer Aum Karma
Drive through and time to explore the Chelala Pass's vibrant flora and views of Mt. Jomolhari
Stroll the paddy fields to Chimi Lhakang
All entry fees for the above sights and additional activities as listed on the itinerary
Flights to Bangkok, Thailand (BKK)
Any video or still camera fees assessed by the monuments or places of interest
Alcohol
Gratuities (for your Bhutanese guide – all other gratuities are covered)
Items of a personal nature (phone calls, souvenirs, spa services, etc)
Travel Insurance (required)
Bhutan Yoga Retreat Accommodations
Welcome to Bhutan and the gorgeous views of Thimphu at our first boutique hotel  set within the foothills of the Himalayans.  Enjoy modern amenities and charm of the Norkhil Hotel and the seclusion it offers, just outside of the heart of Thimphu.  
Enjoy understated luxury and the simplicity of culturally informed design in your deluxe rooms in the Punakha Valley.  Surrounded by thick pine forests from its mountain perch and overlooking the Punakha Valley, Zhingkham Hotel is simple and luxurious comfort.  Train your camera on the stunning view and villages dotting the valley floor.
Floor to ceiling windows warm and brighten each cottage while highlighting the all-encompassing forest and Himalayan mountain range views.  The Himalayan Keys Forest Resort is a wholly Bhutanese-owned, boutique hotel designed to capture a luxurious treehouse experience.   Tucked away and off the beaten path, the cottages are also close to it all and only a few minutes walk to Drukgyel Dzong.  Wandering through the beauty out-of-doors to local ruins is a stunning way to end your Bhutan yoga retreat adventure.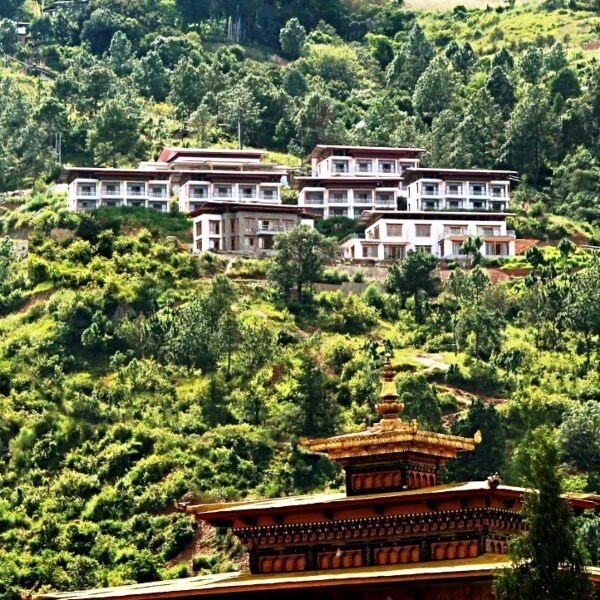 Board your included flight from Bangkok to Paro and begin your unique Bhutan yoga retreat and ten days of amazing cultural exploration. 
Yoga retreat adventure schedules will vary and final itineraries will go out to the travel crew about a month prior to departure. The trip  outline gives you an overall picture of what an adventure in Vietnam & Cambodia will be.
Fly into Bhutan through the Paro Valley and spy the Pa Chu (Paro river) and Ta Dzong (watchtower)
Exit the arrivals at the airport to meet up with our guide and head out for the 1 hr drive to Thimphu
Enjoy a welcome blessing and spiritual cleansing from the High Lama of Bhutan
Head to Thimpu to check-in and enjoy lunch at a local restaurant
Join local nuns for an evening prayer ceremony
Opening yoga class
Group dinner and welcome to Bhutan!
Sunrise yoga at the base of the Buddha Dordenma statue
Breakfast picnic at the statue and entrance
Cooking lesson with foodie pioneer Aum Karma at her home
Transfer back to town for a lunch sampling the local cuisine
Return to the hotel for the evening yoga class
Group dinner at the hotel
Optional – if you've got the energy, head out to one of Thimpu's dance clubs (electronic beats anyone?)
Early morning yoga and breakfast
Hike to Dodeydra Monastery
Learn the rituals and participate in a butter lamp offering
Enjoy lunch at the monastery with the monks
Head outside this afternoon with the monks for a friendly soccer match

Practice your passing skills and bring a sense of humor to the pitch!

Early evening meditation with the monastery's lama
Evening prayer session with monastery's monks
Evening dinner and overnight at the monastery
Enjoy morning yoga with your new friends from the monastery
Say goodbye and hike back to Thimphu and catch a ride to Punakha
Mid-drive stop in the Dochu La pass and lunch, and stunning views, at Druk Wangyel 
Walk the paddy fields to the Chimi Lhankhang – a temple dedicated to a great yogi known as the "Divine Madman"
Check-in and enjoy an evening yoga session
Dinner at the local hotel 
Early morning yoga and breakfast at the hotel
Hike to the Khamsum Yuelley Monastery
Head out for a big day on the river rafting either the Mo Chu or Po Chu rivers

Raft through the stunning Bhutanese backdrop and by the 17th century Punakha Dzong – no experience necessary, just a willingness to paddle and get wet!

Enjoy a post-rafting riverside picnic
Head to explore the Punakha Dzong on an ancient walking path
Traverse Bhutan's longest suspension bridge
Dinner and bonfire evening at Aum Karma's farm home (no evening yoga)
Morning yoga and group breakfast
Enjoy a day of leisure as you take a well-deserved pause to explore Punakha, get a massage or relax on property
Enjoy lunch together on property  
Stroll the river, head off for a hike or continue with a fully rejuvenating and relaxing afternoon
Evening outdoor yoga 
Group dinner at the hotel
Early morning yoga and breakfast at the hotel
Transfer to the historic town of Paro
Enjoy lunch at a local restaurant
Head into the woods with local experts to learn the technique  of textile dyeing and weaving

Traditional textiles in Bhutan are highly regarded and have an important cultural and historical language all their own

Evening yoga session and dinner at the hotel
Early morning yoga at the chorten-style Buddhist temple Dungtse Lhakhang
Enjoy breakfast a local cafe
Drive to the stunning Chelela Pass
Luxuriate in a picnic at 13,000ft with stunning views of the sacred mountains of Jomothari and Jichu Drake
Evening yoga to unwind 
Group dinner at the hotel
Early morning hike to the Taktsang Monastery Tiger's Nest
Morning yoga along the hike 
Enjoy a picnic breakfast  

This most famous of Bhutan landmarks requires a hike of approximately 5 hours to reach the monastery

Learn the history and significance of the monastery as one of the most sacred and venerated sites in Buddhism
Explore the Sacred  Caves below Tiger's Nest
Meditation with the lama at the monastery
Head back into town post-hike and explore Paro
Luxuriate hike weary muscles in a traditional hot stone bath
Final Bhutan yoga 
Group farewell dinner 
Group breakfast and final Bhutan goodbyes
Transfer to the Paro airport for your flight to Bangkok and onward back home
Bhutan was beyond amazing, it's beauty can't be imagined. This is my fourth trip with Travel Yogi; Galapagos with Liz Arch, Iceland with Elizabeth Rowan, Kenya with Liz Arch and now Bhutan with Erica Jung. Travel Yogi is easy to deal with and I trust that the accommodations will always be top notch, I haven't been disappointed yet. The yoga is always equally spectacular as well, I enjoy getting personal instruction from A-list instructors. They have all been a treat. I can't think of a better way to see the world and have made great friends on every trip. I can't wait to start planning my next adventure to Vietnam and Cambodia! My wife and I love The Travel Yogi!
Each of our 3 hotels went above and beyond my expectations and I'm sure we got the best guide in the entire country. I was nervous because the trip was so involved but The Travel Yogi was so helpful and quick to respond when I emailed questions. Thank you!
Wonderful hikes. Visiting local schools, houses and monasteries. Unique experience which will be very memorable.
[Alexa] is the reason I started coming on these trips and she continuously raises the bar.
So very many aspects of it were life-affirming and awe-inspiring. I'm really very grateful that it was so much more than a yoga retreat as the Himalayan culture and hiking cannot be missed!
Frequently Asked Questions