Trip in One Word: Mesmerizing
What You'll Experience In Sri Lanka
Sri Lanka is a treasure trove of culture, aromatics, nature, Buddhism, historical wonder and more. On this yoga adventure, you'll feel the hum of city life in Kandy and Colombo, smell (and taste!) the curry, hike, immerse, dine with locals, spy for leopards and sink your toes into the ocean. You'll experience Buddhism, ancient and contemporary, and admire the Dutch and British colonial architecture of the past. You'll ride the rails and wander the tea plantations.  Sri Lankan history and culture are topped only by its natural beauty—from verdant forests to diverse mangroves, coral reefs and vast nature reserves. On this yoga retreat in Sri Lanka, you'll learn why this island is called the Pearl of the Indian Ocean.
How You'll Experience Sri Lanka
On this yoga retreat in Sri Lanka, you'll explore Sigiriya Rock Fortress, visit the ancient monastery at Ritigalato, trek Little Adams Peak, Nine Arches Bridge and spend time at the Dambulla Cave Temple and the Temple of the Sacred Tooth Relic—all with locals to help you navigate the terrain and language. You'll explore Colombo's food stalls and markets, embark on a spice exploration to satisfy even the most curious palate, cook Sri Lankan dishes with a local: a unique opportunity to discover Sri Lanka through all senses.  Wait, did we mention you'll also relax by the beach and safari through a nature reserve?! You'll let the (curry) dust settle after each day of adventure with yoga sessions amongst new friends. 
How You'll Feel When You Return Home
You'll return home mesmerized by the diversity of Sri Lankan culture, inspired by new recipes (that will help you relive your adventure when you cook at home!), and inspired by centuries of endemic and trader-route culture and religion. After this yoga retreat in Sri Lanka, you'll know travel is truly the spice of life.
Yoga Retreat in Sri Lanka Upcoming Dates
April 3 - 15, 2024
Janet Corvino
Janet is a yoga instructor, yoga teacher trainer and Life Alignment coach. Born and raised in NYC and now living in the mountains of Whistler, BC, Janet is part homebody and part gypsy. She loves her home in the mountains as well as exploring the world through travel. As a result, Janet has been travelling the world and teaching internationally.
Janet as a yoga instructor offers a playful, sweaty, deep practice with soul-searching teachings. Janet teaches "real life yoga for everyday living" by encouraging her students to explore yoga philosophy through themed classes and take their awareness into
their life. Janet as a Life Alignment Coach is soulful in her approach using yoga philosophy and Co-Active teachings to evoke deep insights. Janet's candor, confidence and humour creates a playful, supportive environment to dive into action. You will be inspired to live deeply rich life filled with possibility.
She is generous with her support and deeply devoted to her students. Coaching and Yoga are pathways to living a life of harmony and fullness. Janet will journey with you there.
August 10 - 22, 2024
Jennifer Prugh
Jennifer Prugh is passionate about guiding students toward discovering what is possible in life when we bring our whole selves to each moment. She is the founder of Breath Together Yoga, a yoga studio, tea house and wellness center that offers over 100 classes a week for every level of practice, as well as the founder of  the Joy of Yoga 200 and 300/500 hour teacher trainings.
Jennifer leads yoga adventures and retreats all over the world. A professional artist with a master's degree in Art and Consciousness Studies, she was an associate professor for eight years at Cogswell College where she taught storytelling, mythology and creativity. She began practicing yoga in 1989, and teaching yoga after in 1999 following the death from cancer of her greatest mentor, her father. in 2021 she published a large format photography book, River of Offerings, 12 journeys following the path of the Ganges River, which you can find at your favorite bookstore or on Amazon.
Jennifer left higher education to teach yoga exclusively, in the words of Joseph Campbell, " to follow her bliss." Her online classes can be found on yogaanytime.com and YouTube @BreatheTogetherYoga. Jennifer is president of the board at the Tibetan Children's Education Foundation, and because education changes the world, she enthusiastically encourages people to sponsor the education of Tibetan children and children of refugees from neighboring Indian countries.
She lives with her husband Will, their son Liam, and their golden retriever, Hobbes and River.
A Samburu Project Fundraising Adventure
STAY TUNED FOR NEW ADVENTURE DATES...

In the meantime check out other great Yoga Adventure locations. Join our newsletter for the latest updates and new adventure location dates.
Thirteen days with English-speaking expert, local Sri Lankan guides
Specialist guides on unique cultural extras
Breakfast each morning at our hotels
All lunches including local eateries, hands-on experience and restaurants
All dinners in a local restaurant, a local home or at our hotels
Morning and evening yoga on most days (please see the full itinerary for yoga schedule)
Luxury accommodations
Trek to Little Adams Peak & Nine Arch Bridge
Train ride through Sri Lanka's hill country
Experience Udawalawe Elephant Transit Home
Safari through Udawalawe National Park
Full guided exploration of Sri Lanka's cultural triangle
Exploration of Sigiriya Rock Fortress
Cultural cooking with a local restaurant owner
Cultural visit to the ancient monastery at Ritigala
Explore the Dambulla Cave Temple
Spice market exploration with a local
Visit and guide through the Temple of the Sacred Tooth Relic
Beachfront relaxation
Experience at Colombo's food stalls and market
International flight to Colombo, Sri Lanka (CMB)
Personal travel insurance (recommended)
Alcohol and drinks at meals
Video or still camera fees assessed by the monuments or places of interest
Gratuities
Items of a personal nature (phone calls, souvenirs, spa services, etc)
Compulsory Electronic Travel Authorization fee for arrival visa
Yoga Retreat in Sri Lanka Accommodations
Our Sri Lanka adventure travel will take us through bustling cities and tucked away gems all with luxurious accommodations.  Each location has been chosen for its comfort and amenities as well as its ability to keep us close to the action and authentic Sri Lankan culture.  Please note that rooms with two beds are not the norm across the island.  We will always accommodate those looking for two beds but in some locations this may mean one large bed and one smaller bed (though never smaller than a twin).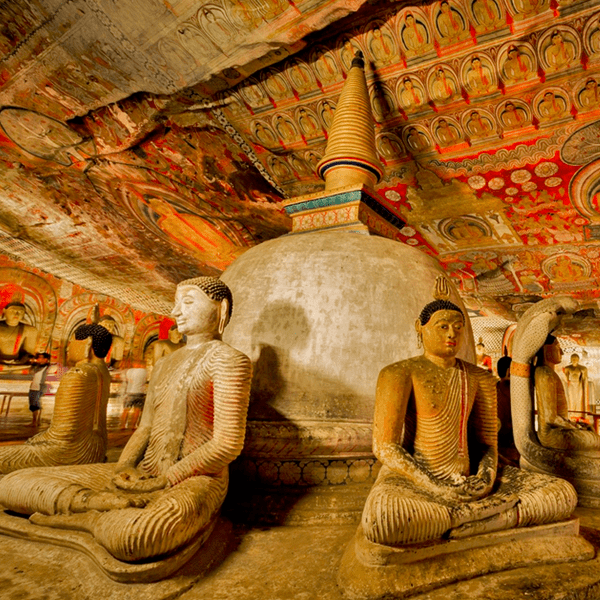 Feel the hum of city life in Kandy and track elephants, leopards (with any luck), and wildlife in Udawalawe National Park.  Sri Lankan culture is topped only by its natural beauty; revel in our one-of-a-kind experiences and chill-out beach days.  The day to day itinerary below gives you the highlights of our yoga retreat in Sri Lanka and the adventure that awaits:
Ayubowan!  Welcome to your magical yoga retreat Sri Lanka
Transfer from the airport to Negombo
Check in and chill out before a relaxing deplane-ing yoga session
Enjoy a welcome dinner and a recharging night's sleep
Explorations begin early today as we jump into the heart of Sri Lanka and the cultural triangle
Venture into Dambulla and awe at a site that has been venerated for over 22 centuries

This cave temple complex's artistic intricacy beggars belief with carvings and murals that depict the life of the Buddha
153 Buddha statues, as well as those of gods, goddesses and kings and queens adorn the five caves of this complex
Watch out for curious and mischievous macaques (ha!)

Head to Sigiriya and absorb the day's adventure on your mat
After morning yoga we'll head out for a cycling trip to explore the day-to-day in local villages

Get ready for a day on the backroads and enjoying a big part of what makes Sri Lanka such a beautiful place: the people!
Stop into homes for a welcoming cuppa and time learning about the local industries run from the village/homes

Cycling from village to village will work up an appetite for a mouth-watering rice and curry lunch in a local home
After lunch, and a small rest, it's time to stretch out and bowl your best googly 

While not exactly a fair contest, this afternoon is a cricket match-up between us and village locals (prepare to inspire some giggles)

After what we can only assume will be a proper cricket-whooping, we'll head back with fun photos and smiles with dinner at 'home'
This morning we'll start early with a hike to the top of the stunning Sigiriya Rock Fortress

We're starting out early to beat the crowds up the 1,200 steps so that reaching the top gives you unadulterated access to the crazy amazing view
Beautiful frescos and giant lion paws guarding the main gateway are two highlights of 'Lion Rock'

Heading back to the hotel we'll unwind and relax from the climb and stunning morning adventures
Enjoy lunch with views out to Sigiriya and enjoy the afternoon in the pool, the spa or catching a nap 
With renewed energy  we'll head for some grounding time on our mats
At almost the halfway point in the adventure, we'll have a day to relax, sleep in and choose your own adventure (or relaxation)
Later morning yoga class and leisurely breakfast
Enjoy a stroll down memory lane with a retired planter and his stories and history
With today at your disposal you can lounge by the pool or book a mountain bike or walking trek, explore Aligala caves or hit the spa.  With plenty of adventure still ahead, today's choice is yours
A lovely group dinner at the hotel closes out this relaxation day 
Welcome the morning with a flow and a beautiful sunrise
Depart for Kandy and a day of local culture and tradition
Upon arrival in the colonial city of Kandy we'll enjoy lunch and explore the local market and stalls
This afternoon we'll meet up with our local Kandyan friend and his wife at their home and enjoy local tea, sweet treats and smiles

Go light at lunchtime so you can enjoy and indulge in the exquisitely homemade konda kavum, kokis and undu walalu

With friendships solidified over tea and treats, our friends will take us to the Temple of the Tooth Relic.  With their help we'll go through the local methods of adoration of this sacred Buddhist shrine and reliquary 
From an afternoon of local culture, sweet treats and smiles, we'll head back to the hotel for evening grounding yoga and dinner
Enjoy the morning with a flow and delicious, river-side breakfast
This morning we'll drive into the countryside and jump aboard a train
Traveling like the locals in 2nd class (first class is for tourists) we'll chug through the Sri Lankan hill country and its stunning train-only villages and vistas
We'll disembark in the hilly lushness of Ella in time for some relaxation or a light hike before a late afternoon yoga class 
Enjoy an evening dinner surrounded by the sounds of nature and a stunning sunset
This morning we'll be up early for a hike up to the two most famous sights in Ella: Little Adams Peak and Nine Arch Bridge

Our early morning hike to Little Adams Peak will beat the heat and other hikers for the best views and photos of this gorgeous green giant

We'll trek back for breakfast, but keep the trek shoes on as we set off for Nine Arch Bridge

A beautiful bit of architecture from when Sri Lanka was known as British Ceylon, we'll arrive just in time to see a train cross the iconic bridge (pro tip: have your cameras ready)

We'll head back for lunch and this afternoon is all about tea

Giving the large plantations a miss, we'll head to a small, family run, estate to learn how they hand-produce local artisanal tea.  Depending on the point of production, we may get to give plucking or rolling a go – tea tasting will be a must!

Back 'home' we'll enjoy some hamstring relaxing yoga and a wonderful dinner in the hilly jungles of Ella
This morning we'll head to support the helping hands at the Udawalawe Elephant Transit Home

The rehabilitation center for injured and orphaned baby elephants is a research and conservation based center
Dedicated staff heal and train these babies with the skills their mom/herd would have given them so that they can be released into the wild to survive and thrive
We'll hit a feeding time and watch these little guys run in to (loudly) slurp up their fill

With hearts full from the little ellies we'll head out on safari in Udawalawe National Park

This elephant-centric national park steers clear of the crowds and traffic jams of Yala and allows nature to take center stage
Elephant sightings are the main attraction in Udawalawe but keep your eyes open for wild buffaloes, jackals, crocodiles and (if we're lucky) maybe even the elusive sloth bear or leopards

Leaving Udawalawe we'll take off for the coast
Morning yoga on the stunning Sri Lankan coast and a relaxing breakfast
These next two days will be all about relaxation and/or (your choice) beach action

We'll be staying right on the beach  and you can choose to swim, surf, stroll the gardens, hit the spa, SUP, visit Bundala National Park or simply take a dip in the pool and chill
Arrival signals some well deserved time to sink your feet into the sand and relax

We'll come together for evening yoga (if you can pull yourself away from the beach!) and group dinner
Today is your last day to chill and make the most of the beautiful Sri Lanka coast
This morning we'll start yoga a bit later to start the chill-day off on the right foot
We'll enjoy a post-yoga breakfast together and then today's activities are up to you
Lunch will be on property and wave hopping will be sure to get you in in time to fill your hungry belly
With sandy toes we'll come together for this evening's yoga retreat practice and seaside group dinner
This morning will be our closing yoga practice for the trip and a goodbye to the coast as we make our way to Colombo
Take in the Sri Lankan countryside as we head towards the largest city, and capital, of this island nation
En route to Colombo we'll stop at the Galle Fort which has seen over 400 years of Sri Lankan history

This remarkable fort bears the influence of the Arab merchants, Portuguese sailers and colonizing Dutch who all set foot or made claim to this Indian Ocean island

Reaching Colombo we'll head out to explore the 'unseen Colombo' with our local expert

As the sun sets we'll head out on a leisurely walk through the Galle Face green and into the local neighborhood known as Slave Island
Colombo is an ever evolving city and the architectural gems of Slave Islands and its Dutch colonial past may not survive the renovation

Our final group dinner will be out on the amazing streets of Slave Island where we'll partake in the not-to-be-missed street food of Colombo
Today is goodbye to our Sri Lanka travel and each other
Breakfast this morning is our chance to collect emails for photo sharing and final packing
Transfers to the airport, hugs and a close to our yoga retreat Sri Lanka
This was the most amazing trip of my life. First, Jen at The Travel Yogi made every step of the way in booking the trip and my airfare so easy … She was unbelievably knowledgeable, helpful and eased all my fears. The way this retreat is structured is spectacular. The excursions every day, all day long- and the blend of yoga in the morning and the evening was perfect. I was terrified to leave the US and go to this tiny place so far away, but I am so glad that I did, it was truly life changing and I highly recommend this trip for everyone!! Thank you Jen and Courtney!!!
Best trip I've ever taken
I felt SO well-prepared for this trip. I didn't worry about anything. Jen is super responsive. Thanks Travel Yogi! I will definitely be back!
Thank you for arranging an amazing once-in-a-lifetime trip and for your help and assistance every inch of the way leading up.
Frequently Asked Questions