Trip in One Word: Breathtaking
What You'll Experience in Iceland
From the volcanic power that continues to form this island to the big-little-city hum of Reykjavík, this island is alive. On our yoga retreat in Iceland, explore waterfalls and geysers, taste test your way around the city, rest in the south surrounded by Icelandic horses, see its out-of-this-world terrain, and chillax in the Blue Lagoon. This yoga retreat in Iceland will truly take your breath away. 
How You'll Experience Iceland
You'll witness the echoes of ageless glaciers and exploding geysers on this yoga retreat in Iceland. You'll be inspired by Iceland's use of geothermal energy and its focus on sustainability. You'll be charmed by the quirky warmth and hospitality of its culture. You can experience the epic midnight sun in the long days of summer or the gorgeous aurora borealis in the hush of winter. From vibrant Reykjavik and our hidden horse farm accommodation gem in the south of the island, you'll explore the raw beauty of Iceland with a daily yoga practice to help you integrate. 
How You'll Feel When You Return Home
You'll bring home a reinforced sense of awe and wonder at the natural world, a newfound respect for the term "at a glacial pace," hope for an environmentally conscious future, and maybe even a blossoming belief in magic. 
Iceland Yoga Retreat Details
Iceland Yoga Retreat Upcoming Dates
July 16 - 22, 2023
Dana Sweeney
Dana Sweeney is 500-hour RYT based in Portland, OR whose teaching style is inclusive, uplifting, rooted in yogic history and informed by thousands of teaching hours.
She creates a vibe.
A music filled life influences her curated playlists and a background in dance and massage therapy integrates deep understanding of movement and anatomy. Her carefully sequenced practices and musical soundtracks make classes accessible and transformative.
She is a woman in recovery, a Mother to many unique and wonderful children, a trauma survivor and a human who stands in solidarity with marginalized and vulnerable people.
Dana Sweeney's passion is sharing the practices of yoga and creating safe places for others to heal. She'd sincerely love to meet you one day – on or off the mat.
STAY TUNED FOR NEW ADVENTURE DATES...
In the meantime check out other great Yoga Adventure locations. Join our newsletter for the latest updates and new adventure location dates.
Morning vinyasa and/or evening chill-out yoga practice
Foodie walking tour of Reykjavik
Three nights in a luxury hotel in Reykjavik
Three nights at our country inn in the south of Iceland
Full guided tour (with secret extras) of Iceland's famous Golden Circle

Gullfoss' natural gorgeousness
Geysir natural spring (time-able eruptions and a good indication of what's going on below!)
Thingvellir's cultural and historic past
Photo op at Faxi waterfall
Folklore fun at Haukadalur
Science, history and more natural beauty than you can shake an elf at (Icelandic "ha")

Nighttime sky gazing in the perfect dark of nature to spy the Northern Lights (winter & spring trips)

Two chances in the south to see the lights – jump into the on-property Viking Pool or separate jacuzzi with a hot (or cold) drink and wait for the show
Summer trips can jump in the Viking Pool and bask under the midnight sun
Reykjanes Peninsula day trip
Visit Hafnarfjördur (and the elves!)
Cross the 'bridge' and the continental divide between the American and Eurasian plates – walk from America to Europe (ha)
Check out the beautiful blue clay and bubbling hot spring of Seltún
Watch the steam escape from the fumaroles and hot springs of Gunnuhver

Head to the Blue Lagoon for a long soak

Entrance to the Blue Lagoon with extras

Full-day south coast explorations

Exact adventure locations will be determined by the season and weather

Full buffet breakfast daily
One country lunch
Five full dinners (vegetarian and non-vegetarian options)

Included in the dinners is a night out in Reykjavik at a local restaurant (yum)

Transportation to and from Keflavik (KEF) airport (on arrival and departure days)
Free wifi
Airfare to Iceland
Lunches (except the one included lunch in the country)
One dinner
Additional excursions
Alcohol or items of a personal nature/souvenirs
Travel insurance (recommended)
Gratuities
Executive rooms offer comfort with Scandinavian luxury. Clean, crisp rooms with large bathrooms lull each yogi to sleep.  Bask in the thoughtful extras of heated towel racks (a welcome luxury), long tubs and deep, comfortable beds.
Atrium rooms offer many of the same comforts of the Superior Executive room with a few slight differences.  Atrium rooms will look in towards the spacious and natural-light filled lobby area and will be slightly smaller than their Executive cousins.   All of these rooms can accommodate two beds for roommates and are a wonderfully comfortable alternative to the Executive rooms.
Our rooms in the south are all clean and neat country-comfort with en suite bathrooms.  They are smaller and more basic than the city hotel rooms but with unrivaled views. Gaze out onto the surrounding fields dotted with the property's host of Icelandic horses or towards the museum building beautifully constructed, in part, with volcanic rock.  Rooms will be configured with either two twin beds or one king based on your initial room request.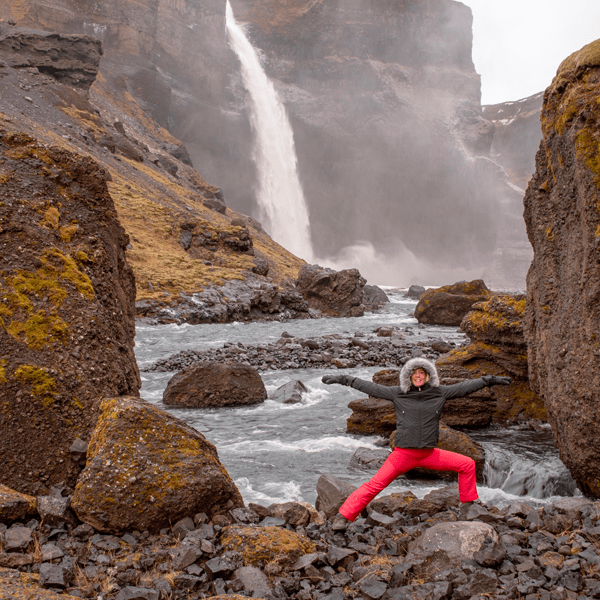 Iceland yoga retreat schedules will vary slightly based on weather and final itineraries will go out to the travel crew about a month prior to departure. Our schedule below gives you an overall picture of what a weeklong wellness and yoga retreat in Iceland will look like:
Early (very early for most of us) morning arrival in Iceland
Transfer to Reykjavik (approx 1hr) and drop bags off at our hotel
Rejuvenate with a full breakfast (coffee!) and take a few moments to relax
Head out for a walking foodie tour of Reykjavik

Get your bearings and a gastronomical tour of this eaty-eclectic country

Play in downtown or stroll back and check in to your room
Evening de-plane and welcome yoga class
Group welcome dinner
Morning yoga and group buffet breakfast
Today we're heading out to visit the homes of the elves, Vikings (only kinda kidding) and the stunning Reykjanes Peninsula

Day trip down to Hafnarfjördur (for the elves)
Visit Kleifarvatn for a view of the seismic-ly beautiful Kleifarvarvatn and walk the "bridge" between the American and Eurasian tectonic plates
Check out the geo-thermal epicenter of Seltún; blue clay and bubbling hot spring included
Wander out among the fumaroles and hot springs of Gunnuhver… watch out for Gunna the ghost!

After a day of exploring we'll head over for a soak in the warm-zen-goodness of the Blue Lagoon

You'll have a few hours to relax in the waters and chill.  Entrance with us includes:

a pre-treatment in-water silica mud mask
a drink of your choice from the swim-up bar in the Lagoon
skin smoothing-tightening-glowing-allaroundawesome in-water algae mask

Head back for an evening yoga class and dinner on your own tonight
Up early today for breakfast and packing for our Iceland nature adventure
Today we head out of town and head south into the great Icelandic wilds

We'll trek out to the Sólheimajökull glacier's natural and massive gorgeousness
Stroll the black sand beach of Reynisfjara
Check out Vík and maybe squeeze in some secret-surprise stops

Arriving in the late afternoon/early evening near the base of the Hekla volcano we'll check in and roll out our mats for yoga
Dinner tonight is in a room with floor to ceiling views of Hekla and the stars
Our first night out in nature is a fantastic time to watch for the Northern Lights (Nov-April only)

jump in the Viking Pool on-property for some natural spring warmth while you light spy
Our morning yoga class takes in Hekla's beauty from the practice space
Fill up with breakfast and get ready for a day of natural exploration

Heading out today we put on our walking shoes (or hiking boots) and head out to explore the highlands and countryside
We'll build in enough time at our exclusive location to allow time with the Icelandic horses that roam the property for those who'd like to ride in the afternoon
In the winter our days will change as our more adventurous spots are weather-permitting

Head in for early evening yoga and dinner
Our second night in nature will, hopefully, bring our second night of light sightings (during the light season)
In the summer months we will extend our day-tripping and push yoga and dinner all thanks to the midnight sun
Early morning yoga and a fuel-up breakfast
Today is a "foss" day as we're hitting up some spectacular waterfalls
On our drive back we'll hit up the remaining half of the Golden Circle

Take a stroll behind (yes, behind) the Seljalandsfoss waterfall
The waterproof and the brave can walk through Gljúfrabúi
Hit up Skógafoss
A little water break at Drangurinn
And all the sneaky spots that we'll fill you in on on the road…

Head back for evening yoga
And fill up with another amazing dinner and beautiful mountain views (for the midnight sun crew)
Good morning, and final, yoga class and breakfast
Today we'll be heading back to Reykjavik while doing the Golden Circle with our own special twist…  Stops will vary slightly based on weather and crowds (the sights are cool but certainly touristy so we work the angles) but expectations can run along the lines of:

Checking out Geysirand Stokkur's eruptions
Strolling Thingvellir – Iceland's national shrine and World Heritage Site
Enjoying Gullfoss' (the Golden Falls) natural and massive beauty
And our own secret-sauce stops

We'll arrive back in Reykjavik and check back in and come together for a night out on the town
Our awesome foodie crew are taking you all out for some Icelandic beer tasting (non-alcoholic drinks totally supplied) and a fun farewell dinner in a local restaurant
Say goodbye to Iceland and the new adventure travel friend-crew in a fun and tasty pub and then head back for some shut eye or stay out and enjoy Reykjavik nightlife
Depending on your flight time it's up for breakfast, hugs and goodbyes
Transfer to KEF and shuffle through a week's awesome memories while waiting to board!
This trip FAR exceeded my expectations
"This trip was a wonderful experience, mostly due to the fabulous guidance of Shannon. Could not have hoped for a better leader – His kindness, spirituality, openness, knowledge, inclusiveness, yoga training and just great sense of fun made this trip a pure and wonderful delight!

The instructor, those who made up our group, the hotel, the activities included (especially the BLUE LAGOON – OMG!), the location and the people of Iceland – all magical! LOVED all activities included – and ALL the guides were simply wonderful. The activity schedule was nicely paced. It was a great location with accessibility to all areas of the city. I would recommend it to friends thinking of traveling to Iceland. Oh yes, I would do it all again!"
Frequently Asked Questions