Trip in One Word: Breathtaking
What You'll Experience in Iceland
From the volcanic power that continues to form this island to the big-little-city hum of Reykjavík, this island is alive. On our yoga retreat in Iceland, you'll venture off the tourist trail and revel in an otherworldly landscape where the trolls and elves of local folklore would fit right in. Secret waterfalls, black-sand beaches, nature-made hot springs and the quirky charm of the local culture come together in an adventure both powerful and relaxing. This yoga retreat in Iceland will truly take your breath away.
How You'll Experience Iceland
On your yoga retreat in Iceland, you'll hike, wander and soak your way to a state of energetic harmony with the living earth. You'll sample local fare on a food tour through vibrant Reykjavik and visit rustic fishing villages guarded by half-human deities from the Icelandic Sagas. You'll walk through a 50-foot-wide lava tube, stand in the shadow of the majestic Kirkjufell mountain, revel in explosions of geothermal color and rejuvenate in the infinity pool-like hot springs of Hvammsvík. In a few steps, you'll cross a bridge from North America to Europe (it's possible, we promise!). Along the way, you'll integrate Iceland's striking volcano-carved beauty with daily yoga practices.
How You'll Feel When You Return Home
Wherever on Earth you live, you'll return from this Iceland yoga retreat adventure awed at the force sleeping beneath our planet's surface. Inspired by Iceland's use of geothermal energy, you'll carry a seed of hope for a future of environmental harmony. You'll see shadows of (friendly!) trolls on nature walks and every time you take a hot bath, you'll close your eyes and imagine the feeling of volcanic mud between your fingers as you drift back to Iceland in your memory.
Iceland Yoga Retreat Details
Iceland Yoga Retreat Upcoming Dates
March 16 - 23, 2024
Debbi Murphy
Exploring the mind-body connection is Debbi's life work. After years in academia researching and teaching subjects that elevated one or the other half of that equation (doctorate in exercise science, master's degree in counseling psychology), she turned her attention to the study of yoga – a perfect nexus of both.
Throughout her years in academia, Debbi studied with leading yoga masters to deepen her knowledge and hone her practice. Her alignment based, mindful flow style evolved from early work with Rodney Yee, Annie Carpenter and Shiva Rea. But the heart of her teaching comes from Erich Schiffmann, whose message of self-trust and the transformative power of yoga really resonated with her background.
Through more than 40 years of study and experience, including a dozen as creator and director of Shanti Yoga Teacher Training, Debbi found that the best approach to mind-body vitality is informed by both western science and the spirit of eastern yogic philosophy. Whether you're attending her popular local classes (which won her the title of Boise's Best), national conferences, or international retreats you can expect an artful blend of sound science, ancient wisdom, and mind-body-spirit integration woven together in the beautiful, juicy flow of the vinyasa tradition.
Debbi also shares her message online in various blogs and trainings. You'll also find her informative and inspirational posts on her website, and her Facebook, Twitter and Instagram feeds.
July 20 - 27, 2024
Dana Sweeney
Dana Sweeney is 500-hour RYT based in Portland, OR whose teaching style is inclusive, uplifting, rooted in yogic history and informed by thousands of teaching hours.
She creates a vibe.
A music filled life influences her curated playlists and a background in dance and massage therapy integrates deep understanding of movement and anatomy. Her carefully sequenced practices and musical soundtracks make classes accessible and transformative.
She is a woman in recovery, a Mother to many unique and wonderful children, a trauma survivor and a human who stands in solidarity with marginalized and vulnerable people.
Dana Sweeney's passion is sharing the practices of yoga and creating safe places for others to heal. She'd sincerely love to meet you one day – on or off the mat.
October 5 - 12, 2024
Niki Robinson
Nicole Robinson has been teaching yoga for over a decade now in her small hometown town of Kailua on the island of Oahu. In 2008 she received her 200hour RYT certification through Aloha Yoga Kula. She went on to open a local yoga studio in Kailua in 2010 called Hot Yoga by the Sea and has been operating ever since.
With over 10,000 hours teaching Niki has developed methods for leading classes to a broad range of students and enjoys teaching vinyasa flow, yin yoga, restorative yoga, yoga nidra, breath work and meditation. She is certified in EFT, emotional freedom techniques, is a Master Reiki Practitioner and is certified in Restorative Yoga and Yin Yoga. With experience leading her own yoga retreats, Nicole is excited to join with The Travel Yogi to offer the most enjoyable experience to all students!
A Family Adventure
STAY TUNED FOR NEW ADVENTURE DATES...
In the meantime check out other great Yoga Adventure locations. Join our newsletter for the latest updates and new adventure location dates.
Morning vinyasa and/or evening chill-out yoga practice
Foodie walking tour of Reykjavik
Three nights in a Reykjavik lux hotel
Four nights discovering nature in Snaefellsness and Húsafell
Explore iconic and tucked-away Iceland gems:

Soak in the natural hot springs and amazing scenery of Hvammsvik
Plumb the depths of Iceland's largest lava cave
Wander the banks of Selvallavatn and behind (if you dare) Selvallafoss
Stroll the quaint fishing village of Arnarstapi
Take a short stroll to Langifoss and soak in the Húsafell Canyon baths
Hike Úlfarsfell for amazing views over Reykjavik

Sky gazing in the perfect dark of nature to spy the Northern Lights (winter & spring trips)

Late fall, winter and spring trips can spend each night in the country spying for lights (always worth looking when in town too!)
Summer trips can stroll the river Straumfjarðará and bask under the midnight sun
Reykjanes Peninsula day trip
Cross the 'bridge' and the continental divide between the American and Eurasian plates – walk from America to Europe (ha)
Check out the beautiful blue clay and bubbling hot spring of Seltún
Stroll the Krýsuvíkurleiðin route on the Reykjanese Peninsula

Head to the Blue Lagoon for a long soak

Entrance to the Blue Lagoon with extras

Full buffet breakfast daily
Five included lunches and six delicious Icelandic dinners (vegetarian and non-vegetarian options)
Transportation to and from Keflavik (KEF) airport (on arrival and departure days only)
Airfare to Iceland
Two lunches 
One dinner
Additional excursions
Alcohol or items of a personal nature/souvenirs
Travel insurance (recommended)
Gratuities
We have the option of using two different hotels in Reykjavik for our in-town adventures.  Regardless of the hotel, all rooms offer comfort blended with Scandinavian efficiency and luxury. Clean, crisp rooms and bathrooms lull each yogi to sleep.  Bask in the thoughtful extras of heated towel racks (a welcome luxury), long tubs and deep, comfortable beds.  Our Reykjavik hotels are all city center and walkable to the main square or the long art/shopping street of Laugavegur.  
Snaefellsnes & Area hotels
Enjoy the charm and hospitality of a family owned boutique hotel in Snaefellsnes and the luxury dark, remote skies for Northern Lights spying.  We'll move between Snaefellsnes and a tucked-away corner of the country near the Langjökull glacier for remote beauty and exploring.  Both locations feature locally sourced cuisine, spacious (and warm) rooms, blackout blinds for sleeping under the midnight sun and stunning local scenery.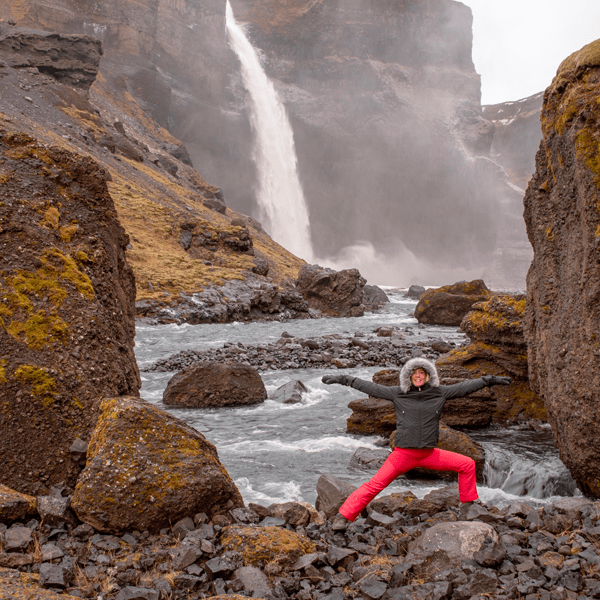 Iceland yoga retreat schedules will vary slightly based on weather and final itineraries will go out to the travel crew about a month prior to departure. Our schedule below gives you an overall picture of what a weeklong wellness and yoga retreat in Iceland will look like:
Early (very early for most of us) morning arrival in Iceland
Transfer to Reykjavik (approx 1hr) and drop bags off at our hotel
Rejuvenate with some coffee and take a few moments to relax
Head out to get a lay of the land and to fill your belly on a walking foodie tour of Reykjavik

Get your bearings and a gastronomical tour of this eaty-eclectic country

Play in downtown or stroll back and check in to your room
Evening de-plane and welcome yoga class
Group welcome dinner
Morning yoga and group buffet breakfast
Pack up and head out for the northern wilds…

Pack your swimsuit in your day bag as our first stop en route north is at the nature hot springs and stunning scenery of Hvammsvik
Weather permitting we'll hike a local mountain at Hvammsvik for some crazy stunning views before lunch

Dry off and head north to explore the fishing village of Borgarnes

Enjoy a stroll around town and maybe a coffee stop to sit and local-watch

Reaching the peninsula we'll check-in, chill out and get ready for this evening's yoga class
Freshen up and come together for dinner and a first chance at spying the lights (fall/winter/spring) 
Morning yoga and breakfast
Today we head out into the wilds of the Snaefellsnes Peninsula (today's itinerary will vary slightly based on season and weather)

Don some hiking shoes and a rain jacket and strolling behind gorgeous Selvallefoss
Head to the iconic mountain of Kirkjufell and the scenic Kirkjufellsfoss

Take a brief nature-respite as we stop at a family-owned and operated restaurant for some smiles and Icelandic cuisine
With full bellies we'll head out to explore Lóndrangar, the nearby black sand beach and symmetrical basalt cliffs
Stroll the sleepy town of Hellnar and Arnarstapi and marvel at the Gatklettur arch
Unwind in this evening's yoga class and enjoy a delicious dinner at 'home'
Wake up with morning yoga and an Icelandic breakfast
Pack up and head out to a new corner of hidden nature

Today's short drive from the Snaefellsnes area will be punctuated by a few secret stops along the way (our guys know the best spots and when the weather/season is right for each!)

Check-in and enjoy lunch in the countryside 
This afternoon will be yours to rest, explore or book some time on horseback  
Come together, rested and ready, for evening yoga and a delicious local meal
Early morning yoga and a fuel-up breakfast
Grab your hiking boots and your swim suit

Boots first as we are of for the morning (easy) hike to Langifoss
The hike's reward (besides the gorgeous two-tiered waterfall) is a soak in the natural hot springs in the canyon

After enjoying a local lunch we'll head out to explore some of Iceland's most beautiful geological marvels

Look, but don't touch, the geothermal spring at Deildartunguhver (this is, incidentally, where your evening's hot water is coming from)
From hot springs to hot lava… we'll head to Víðgelmir to explore Iceland's largest lava tunnel and cave

This evening's yoga class and dinner can be followed by a walk in the midnight sun or some of the best chances to see the Aurora Borealis (due to the geography of the region – we're staying in the Aurora Zone)
Good morning yoga class and breakfast
Today we'll be heading back to Reykjavik but before we get to town we'll sneak in a few sneaky extra explorations
Just before Reykjavik we'll hit the Úlfarsfell hiking path – this easy hike culminates in some stunning views over the water and Reykjavik itself 
We'll check-in and enjoy some free time to head back to favorite spots in town
Dinner is on your own tonight but we've got plenty of suggestions from the traditional to the Icelandic-twist on the international
Morning yoga and group buffet breakfast
Today we're heading out to visit the homes of the elves, Vikings (only kinda kidding) and the stunning Reykjanes Peninsula

Today begins with the otherworldly… a hike through the colors, geothermal oddities and volcanic history of Sogin
Visit Kleifarvatn for a view of the seismic-ly beautiful Kleifarvarvatn and walk the "bridge" between the American and Eurasian tectonic plates
Crossing Iceland's tectonic plates isn't all they have to offer… mud-pots, steaming vents and multi-colored mineral deposits are all part of the beauty of Krýsuvíkurleiðin

We'll enjoy lunch out on the peninsula and fill up before an afternoon of pampering and luxuriating
After a day of exploring we'll head for a soak in the warm-zenness of the Blue Lagoon

You'll have a few hours to relax in the waters and chill.  Entrance with us includes:

a pre-treatment in-water silica mud mask
a drink of your choice from the swim-up bar in the Lagoon
skin smoothing-tightening-glowing-allaroundawesome in-water algae mask

Head back into town for the final  yoga class on our Iceland yoga retreat adventure
We'll come together for a final dinner in town and delicious send off from the week with new friends and plenty of memory souvenirs
Depending on your flight time it's up for breakfast, hugs and goodbyes
Transfer to KEF and shuffle through a week's awesome memories while waiting to board
Öruggar ferðir og sjáumst fljótlega aftur!
This trip FAR exceeded my expectations
"This trip was a wonderful experience, mostly due to the fabulous guidance of Shannon. Could not have hoped for a better leader – His kindness, spirituality, openness, knowledge, inclusiveness, yoga training and just great sense of fun made this trip a pure and wonderful delight!

The instructor, those who made up our group, the hotel, the activities included (especially the BLUE LAGOON – OMG!), the location and the people of Iceland – all magical! LOVED all activities included – and ALL the guides were simply wonderful. The activity schedule was nicely paced. It was a great location with accessibility to all areas of the city. I would recommend it to friends thinking of traveling to Iceland. Oh yes, I would do it all again!"
Frequently Asked Questions