Vietnam & Cambodia Yoga Adventure
Immersive • Adventurous •Amazing
Engrossing cultural exploration, sunrise chanting with Buddhist monks, biking Angkor Wat, authentic local cuisine and more.  Our adventure yoga retreats in Vietnam and Cambodia take you on the journey of a lifetime.  From the bustling capital of Hanoi, to the ancient temples of Siem Reap, our adventures give you access to the bounty and diversity of life in these Asian countries.  
Put yourself in the hands of our local experts as you bike through the ancient town of Hue, set sail on the clear waters of Ha Long Bay, explore floating villages and ancient caves, motor on scooters through Hoi An and, of course, journey into the past at Angkor Wat, the largest religious monument in the world.
November 2 - 12, 2022
Janet Corvino
Janet is a yoga instructor, yoga teacher trainer and Life Alignment coach. Born and raised in NYC and now living in the mountains of Whistler, BC, Janet is part homebody and part gypsy. She loves her home in the mountains as well as exploring the world through travel. As a result, Janet has been travelling the world and teaching internationally.
Janet as a yoga instructor offers a playful, sweaty, deep practice with soul-searching teachings. Janet teaches "real life yoga for everyday living" by encouraging her students to explore yoga philosophy through themed classes and take their awareness into
their life. Janet as a Life Alignment Coach is soulful in her approach using yoga philosophy and Co-Active teachings to evoke deep insights. Janet's candor, confidence and humour creates a playful, supportive environment to dive into action. You will be inspired to live deeply rich life filled with possibility.
She is generous with her support and deeply devoted to her students. Coaching and Yoga are pathways to living a life of harmony and fullness. Janet will journey with you there.
Eleven days location-specific English-speaking expert guides
Flight from Hanoi to Hue
Flight from Da Nang to Siem Reap
Breakfast each morning at our hotels
All lunches including local eateries and restaurants
All dinners in a local restaurant or at our hotels
Vietnam visa approval letter (traveler passport required)
Morning and evening yoga on most days (please see the full itinerary for yoga schedule)
Three nights luxury boutique hotel in Hanoi
One night onboard our Ha Long Bay cruise
Two nights luxury boutique hotel in Hue
One night luxury boutique hotel in Hoi An
Three nights luxury boutique hotel in Siem Reap
Full-day tours of cultural, historical and religious significance in Hanoi, Hue, Hoi An & Siem Reap
Private sailing, swimming, cave exploring and floating village visit in Ha Long Bay
Half-day bike tour through Hue along the Perfume River
Cultural visits with locals in Ha Long Bay, Hue & Hanoi
Sunrise chanting with Buddhist monks and individual blessing (if desired) in Cambodia
Vespa tour through Hoi An countryside
Exploration, with a guide, of Angkor Thom, Bayon, Ta Prohm & Banteay Srei
Up close and personal with the world's largest religious monument – Angkor Wat
All entry fees for the above sights and additional activities as listed on the itinerary
International flights into Hanoi, Vietnam (HAN) and out of Siem Reap, Cambodia (REP)
Any video or still camera fees assessed by the monuments or places of interest
Cost of Vietnam & Cambodia visa-on-arrival
Alcohol and drinks at meals
Gratuities
Items of a personal nature (phone calls, souvenirs, spa services, etc)
Travel Insurance (required)
Centrally situated in the heart of Hanoi, we begin our yoga retreat in comfortable luxury. Each room has en suite bathroom facilities with all of the amenities, including AC. Wi-Fi is available in each room. Double occupancy rooms will always feature two beds and all rooms will have balconies overlooking the city streets below.
Cruise Ha Long Bay in style.  Our onboard amenities include a large top deck for yoga and Tai Chi classes, private dining under the stars and boats or individual kayaks for inlet excursions and exploring.  All rooms will have en suite bathroom facilities and amenities (please note wifi will not be available on Ha Long Bay).
*All rooms for this one night are double occupancy.*
Situated on the banks of the Perfume River, our boutique eco-resort in Hue invites comfort luxury in a natural setting.  All rooms will look out over the gardens to the river and will have en suite bathroom facilities and AC.  Enjoy the calm of the greens and river around you and the views of the Van Thanh Temple just across the water.
Just outside of the ancient town of Hoi An we will find our quiet oasis on the banks of the Song Do River.  Our accommodations will have beautiful balconies with views down to the river below as well as en suite bathroom facilities.  We'll take in the best of beautiful Hoi An and enjoy the tranquility of nature in the evening.
While our days will be spent exploring the mysteries and beauty of Cambodia's past, our Cambodian home will be an oasis of green and tranquility.  Each room will have its own private veranda and en suite bathroom.  Wifi and AC are available in each room.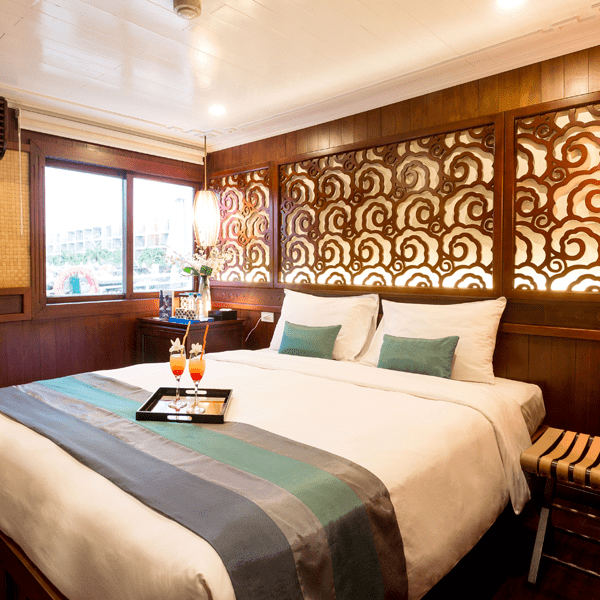 Each of our amazing yoga retreat Vietnam and Cambodia itineraries will be unique, with slight changes based on local holidays and/or events. Below is a sample of what can be expected as you explore these two amazing countries with The Travel Yogi:
Fly into Hanoi and get ready for adventure…

Our guide will meet you at the airport and escort you to our first hotel

Opening airplane-twist-move-it-out yoga class
Welcome dinner and a taste of the 'local' at a neighborhood restaurant
Wake up like a local and head out to Hoan Kiem lake

Join a local group in a tai chi session as they wake up mind and body before a busy day

Journey to the middle of a lake to Ngoc Son Temple
Head into Hanoi's Old Quarter

Tour the crazy mix of Vietnamese and French influence and sample cà phê su'a dá
Sample some street food báhn mì

Truck to the Hanoi railway tracks and walk the rails for some of the most beautiful pictures in the city
Back at the hotel unwind with the evening yoga class before dinner at a local restaurant
Morning yoga centered on balance so that you can get your sea legs on!
After breakfast we head out to the beautiful, amazing, UNESCO World Heritage Site Ha Long Bay

Cruise through the limestone karsts landscape
Visit Vung Vieng floating village by bamboo rowboat or kayak
Chill with the kids at their floating school and experience a-day-in-the-floating-life

Sail to Drum Cave to ooh and ahh at the stalagtites and folklore of this ancient site
Spend the mid-afternoon swimming in the bay or chilling on deck
As the sun goes down head to the top deck for a sunset-360-ocean-view yoga extravaganza
Enjoy dinner on deck under the stars
Rise and shine with the sun for either yoga or Tai Chi on top deck
After a light breakfast we set sail for Sung Sot Cave

A once-in-a-lifetime 100ft high cave experience
Water filled grottos, stalagtites and stalagmites in a wonderland setting

Disembark and transfer back to our hotel
Last afternoon in Hanoi is yours to explore and wander
Early evening yoga
Head out for a farewell Hanoi dinner on the town
No yoga this morning as we're up early for our flight from Hanoi to Hue
Check in and drop off at our new hotel and head out for lunch
Get your bearings in Hue with a walking tour

Head to the royal tomb of Tu Duk King
Take in the fusion architecture and the "is he/isn't he" buried here mystery…

Head back for early evening yoga at our riverside hotel
Enjoy the tastes of Hue with a local flavorful dinner in town
Morning yoga will focus on hamstring and hip stretches as we get ready to bike through our day
Mount up and cycle through green orchards and shady lanes as we peddle along the Perfume River

Our bike breaks will be at local villages for some hands-on helping and engagement
Dig in and make a local sesame cake delicacy or wander with the locals and collect the evening's veggies

Stop in the ancient village of Thuy Bieu – long know as a symbol of transition and harmony

Wander through the communal houses and the nostalgic beauty of the garden-houses
The architectural mix of wooden structures and Fengshui-based gardens highlight a rustic life and the mingling of the countryside's royal legacy
Get historical as we explore some of the Nguyen Dynasty's ruins such as the Roman Colosseum-styled Tiger Arena
Learn about the ancient tiger and elephant duels that the arena used to host and discover the temple-cemetery dedicated to the King's loyal elephants

We trade our bikes for a boat as we cruise down the Perfume River to the Thien Mu Pagoda and the Forbidden Purple City

Although badly damaged during the Tet Offensive of 1968, the Forbidden Purple City, the cultural, political and religious center, of a unified Vietnam in 1802

Evening outdoor yoga (weather dependent) at the hotel
Group dinner at a local restaurant
Early morning yoga and packing before breakfast
Today we drive to Hoi An via Da Nang

Take a ride on Vietnam Highway 1 over the soaring Hai Van Pass (Sea and Cloud Pass)

Stop in Da Nang for lunch and exploring

Head to the stone carving villages in the Marble Mountains that peak just south of Da Nang
Explore the caves and Buddhist sanctuaries dotting the mountains

Arrive in Hoi An and spend the afternoon strolling the centuries-old lanes

Another UNESCO World Heritage Site, Hoi An reflects the centuries of cultures that have sailed through its port
Walk the streets enjoying the mix of Chinese, Dutch, French and Japanese influence
Stroll the 400 year old Japanese Bridge that used to divide the Japanese settlement from the locals

Walk or taxi back to the hotel for the evening yoga class
Dinner at a local Hoi An restaurant
Rise and shine yoga and breakfast
Time to get your Vespa on!

Hop a local bike ferry to the island fishing port of Cam Kim
Zigzag on your Vespa through gorgeous farmland and scenic rice paddies with stops at the local villages for a crash course in: mat weaving, laughing, making (and eating) the perfect banh dap/rice cracker
Another Vespa ride to a village for some drip coffee in preparation for our 300 meter dash across the local bamboo bridge to the seaside
Cruise our way over to the Duy Hai market and local harbor

From the harbor we'll ferry to the coconut palm fringed Cam Thanh and beyond to beautiful Ha My beach
Zooming back to our hotel we'll pack up and prepare for our flight to Cambodia
Our early evening flight takes the place of yoga today but your adrenaline will still be pumping as you catch your first glimpse of Siem Reap
Head to our final hotel and relax
Group dinner at a local restaurant
Early morning yoga and breakfast
Head out on a remork (tuk tuk) for a temple journey day

Begin your journey to ancient Cambodia at the South Gate of Angkor Thom
We will leave the tourist path as we take a 1km walk into the jungle to the hidden temple
Walk on to Khmer King Jayavarman VII's official state temple of Bayon in the heart of Angkor Thom

Take a break to absorb this astounding morning with lunch at a local restaurant
Dive back in to ancient times at the jungle temple of Ta Prohm

Originally build in the 12th or 13th century as a Mahayana Buddhist monastery and university, little has been touched at Ta Prohm since it's discovery; prepare your cameras for jungle/temple amazement

The afternoon is for the splendor that is Angkor Wat

As the largest religious monument in the world, you will have hours to explore the complex and absorb the artistry, emotion and history of this ancient site

We will head back for a calm, restorative, absorb-it-all evening yoga class
Head to a local restaurant for dinner followed by a traditional Cambodian dance performance
This morning we'll get up with the sun and head to a local pagoda

Our morning will be a blessing of sounds as we sit and listen to the chanting of the pagoda's monks
After the chants we will each by blessed by a monk with holy water flicked from a jasmine flower for wishes of happiness and good health

We'll return to the hotel for breakfast and a quick relax before more ancient exploration
Heading out we'll journey to Banteay Srei temple, or, "Citadel of the Women"

Off limits for many years due to it's remote location and Khmer Rouge activity, we'll spend the morning investigating this Hindu temple dedicated to Shiva
Diminutive in its size, especially when compared to other Angkorian wonders, this temple is also known as the "precious gem" or the "jewel of Khmer art"

Coming out of the deeper jungle we'll take a break for lunch at a local restaurant
Heading to the Old Market in town, this final afternoon is yours to wander and bargain the stalls and town-life
Closing yoga class in the early evening back at the hotel
Final group dinner at a local restaurant – email, phone number, photo exchanges and goodbyes!
Morning packing and breakfast prior to your flight home or onward
A final "Choum reap lear" as you say goodbye to Cambodia and your amazing travels
This was the most amazing trip of my life. First, Jen at The Travel Yogi made every step of the way in booking the trip and my airfare so easy … She was unbelievably knowledgeable, helpful and eased all my fears. The way this retreat is structured is spectacular. The excursions every day, all day long- and the blend of yoga in the morning and the evening was perfect. I was terrified to leave the US and go to this tiny place so far away, but I am so glad that I did, it was truly life changing and I highly recommend this trip for everyone!! Thank you Jen and Courtney!!!
Best trip I've ever taken
I felt SO well-prepared for this trip. I didn't worry about anything. Jen is super responsive. Thanks Travel Yogi! I will definitely be back!
Thank you for arranging an amazing once-in-a-lifetime trip and for your help and assistance every inch of the way leading up.
Frequently Asked Questions