Trip in One Word: Rejuvenation
What You'll Experience in Bali
Bali is a world-renowned yogi paradise. But, for The Travel Yogi, it's just paradise. Brimming with culture, mysticism, magic, and nature, this yoga adventure is for the beach-loving yogi seeking backroads biking, ocean vibes, and cultural exploration. We don't care how much you've practiced breath of fire, Bali's beauty will truly take your yogic breath away. Learn more about our Bali yoga retreat.
How You'll Experience Bali
Our Bali yoga retreat adventure is a journey filled with wonder. We will take you off the mat to experience the rich and luxurious beauty of Bali—from its people to its many sacred temples. You'll explore by bike, wave, tastebuds, and foot across the island, imbibing in the ancient and magical energies. Dine with locals, rejuvenate in the healing waters of the ocean, and witness verdant hillsides and green rice terraces. You'll have time to relax, explore, imbibe, and mingle with new friends and travelers—and, of course, integrate it all on the mat. 
How You'll Feel When You Return Home
When you get home (unless you decide to stay!) from your Bali yoga retreat you'll have a little piece of magical, soulful, iridescent Bali in your heart to match your memories and photos.  Expect body and mind rejuvenation and residual happy vibes from this magical island.
Bali Yoga Retreat Details
Upcoming Bali Yoga Retreat Dates
April 20 - 27, 2024
Debbi Murphy
Exploring the mind-body connection is Debbi's life work. After years in academia researching and teaching subjects that elevated one or the other half of that equation (doctorate in exercise science, master's degree in counseling psychology), she turned her attention to the study of yoga – a perfect nexus of both.
Throughout her years in academia, Debbi studied with leading yoga masters to deepen her knowledge and hone her practice. Her alignment based, mindful flow style evolved from early work with Rodney Yee, Annie Carpenter and Shiva Rea. But the heart of her teaching comes from Erich Schiffmann, whose message of self-trust and the transformative power of yoga really resonated with her background.
Through more than 40 years of study and experience, including a dozen as creator and director of Shanti Yoga Teacher Training, Debbi found that the best approach to mind-body vitality is informed by both western science and the spirit of eastern yogic philosophy. Whether you're attending her popular local classes (which won her the title of Boise's Best), national conferences, or international retreats you can expect an artful blend of sound science, ancient wisdom, and mind-body-spirit integration woven together in the beautiful, juicy flow of the vinyasa tradition.
Debbi also shares her message online in various blogs and trainings. You'll also find her informative and inspirational posts on her website, and her Facebook, Twitter and Instagram feeds.
Waitlist only
STAY TUNED FOR NEW ADVENTURE DATES...
In the meantime check out other great Yoga Adventure locations. Join our newsletter for the latest updates and new adventure location dates.
Yoga most days (as listed in the itinerary)
Luxury Balinese yoga retreat locations in Ubud and on the coast
Guided Bali bike tour
Immersion in the cultural daily offering ritual & lunch with a local family
Guided exploration of Bali's historic & ancient temples and shrines
Special visit to Tanah Lot Temple
Surfing lesson and hang ten time
All meals both on property and while on excursion
Transfers to and from Denpasar airport (on arrival and departure days)
Free wi-fi
Yoga mats and props
International airfare to Denpasar (DPS)
Entrance visa
Travel insurance (recommended)
Optional excursions
Souvenirs and items of a personal nature
Our Bali yoga retreat will encompass two very different areas of the island but we'll be staying in luxury all the way. Our Ubud accommodations are set back in multiple acres of beautiful green hillsides and each villa has stunning views from a private veranda. Our coast location in north Canggu keeps the chilled-out luxury going with spacious rooms and a private pool for each room.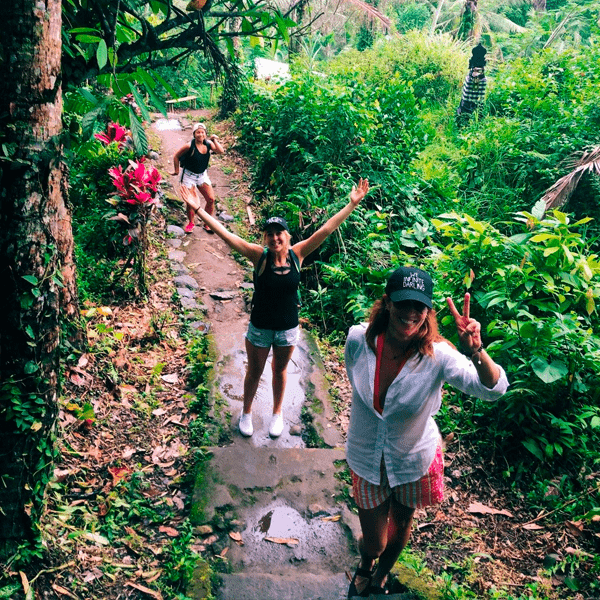 Our Bali yoga retreat is a full itinerary designed to give you the immersive experience of living for a week on this beautiful island. You'll dine with local families, bike the backroads and soak up all the natural and cultural wonders Bali offers along the way.

You will receive a detailed itinerary specific to your departure, but below is an outline of what you can expect. Please remember that we may need to swap things out due to Mother Nature or to accommodate a new option so yogi flexibility is appreciated.
Welcome to Bali!
After passing through customs please look for your driver and off you go to our yoga retreat home in Ubud
An evening de-plane yoga class will introduce you to your fellow yogi travelers
Enjoy a welcome group dinner
Early morning yoga
We'll drive to Kintamani for breakfast and ooh and ahh at the views of Mt. Batur in the distance
After breakfast we'll hop on our mountain bikes and peddle downhill through local villages and beautiful scenery
Along the way we'll stop in with a family for lunch and jump into the flow of their day
After lunch we will head to a Balinese plantation to see how locals live outside of the tourist centers

Dig into the cultural and medicinal purposes of local plants, the coffee growing process and the spices and fruits in Balinese cooking
Sample the fruits, herbal teas and the unusually produced and highly sought after Coffee Luwak

Heading back in the late afternoon for our evening yoga class
Enjoy a relaxed dinner and beautiful nighttime lights
Early morning yoga
Today is a journey back in time visiting some of Bali's most sacred temples and shrines. We will explore:

Goa Gajah (the Elephant Cave), Yeh Pulu, Tempak Siring, Gunung Kawi and the holy spring-water temple of Tirta Empul

Lunch will be out in town today
Evening yoga tonight will help you absorb the days sightseeing and exploration
Group dinner and evening free time to swim, chill and relax
A little sleep in with morning vinyasa to get you going and breakfast
This morning you can enjoy some relax time at our stunning resort, enjoy a hike on property, book a massage, relax in the pool (you get the idea)
This afternoon we'll dip into Balinese Hindu culture as you learn how to make a Balinese offering called a Canang

Once created, each Canang can be offered at the temple

Evening yoga
Group dinner
Early morning yoga
After breakfast we'll pack up and say goodbye to Ubud
Journeying by bus out to the coast we will stop at Tanah Lot Temple, one of Bali's most spectacular sites and among the most photographed temples in the world
Arriving at the coast you'll have time to unwind and swim in your private pool or explore
Early evening yoga – tonight to the smell of salty ocean air
Group dinner on property
Morning yoga and breakfast
Today it's time to hit the beach and hit the waves on a Bali surf day!

We've got your cowabunga ready – surfing lessons are included for all beginners and, for you surf pros, hop on a board and take in the best of Bali surf
Your surf lesson will teach you positioning, paddling, an understanding of the surf and how to catch a wave on shore before you all head out

Heading back in the late afternoon for our evening yoga class
Enjoy a relaxed dinner and beautiful nighttime lights
Morning yoga to put you in the mood for another beach day
After breakfast you can head back out to the beach or you can decide to stroll the beach, swim and relax today
If you've had enough beach time you can stroll the seaside village or do more poolside relaxing on property
Tonight is our last yoga session and we'll finish up the week with a lovely class and closing circle
Our final group dinner and adventure wrap up
Morning vittles prior to departure
Your morning will be at your leisure, depending on your flight time
Transfer back to Denpasar airport for your flight home or onwards
Selamat Jalan!
Bhutan was beyond amazing, it's beauty can't be imagined. This is my fourth trip with Travel Yogi; Galapagos with Liz Arch, Iceland with Elizabeth Rowan, Kenya with Liz Arch and now Bhutan with Erica Jung. Travel Yogi is easy to deal with and I trust that the accommodations will always be top notch, I haven't been disappointed yet. The yoga is always equally spectacular as well, I enjoy getting personal instruction from A-list instructors. They have all been a treat. I can't think of a better way to see the world and have made great friends on every trip. I can't wait to start planning my next adventure to Vietnam and Cambodia! My wife and I love The Travel Yogi!
Each of our 3 hotels went above and beyond my expectations and I'm sure we got the best guide in the entire country. I was nervous because the trip was so involved but The Travel Yogi was so helpful and quick to respond when I emailed questions. Thank you!
Wonderful hikes. Visiting local schools, houses and monasteries. Unique experience which will be very memorable.
[Alexa] is the reason I started coming on these trips and she continuously raises the bar.
So very many aspects of it were life-affirming and awe-inspiring. I'm really very grateful that it was so much more than a yoga retreat as the Himalayan culture and hiking cannot be missed!
There are no proper words to describe my Bali adventure. I keep using the word amazing, but it just doesn't seem appropriate. I was able to fully immerse myself with the culture, and explore the island with ease. I feel truly blessed to have experienced this adventure, especially with Melissa. I can't wait to book my next Travel Yogi adventure!!
Surfing was the best activity I have done in a long time! Very thoughtfully planned out. The ease of communication was very appreciated and helpful. Can't wait for my next trip with Melissa and The Travel Yogi!
"[Sarah] did an excellent job of bringing the emotional and spiritual elements into the practice. Staff were amazing. Accommodations better than expected. Beautiful location and environment. Great food. Details attended to. Very service minded people – hard to find that in North America."
I would like to thank you again for organizing this yoga retreat. It's been such wonderful wonderful experience for me!!! Now I am a huge fan of The Travel Yogi! 🙂
Frequently Asked Questions